Consolida 'Stiletta Indigo Blue'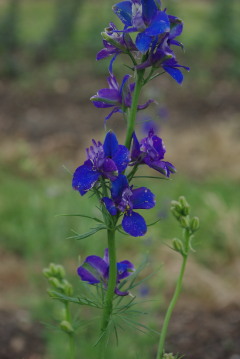 Good Qualities:
Year 1:
The intense indigo blue color (5), slightly taller than other larkspur in my fields, nice vigorous plants; Tall, attractive, with usable branches after main stem was cut; Good as both a fresh cut and dried flower.
Year 2:
Attractive blue flower (5); Went well with 'Rosy Red'; Flowers were nice; The color was unreal – bright, deep, delphinium blue – a color I've never found in a larkspur; Many useable branches even at 6 in. spacing; Healthy plants.
Problems:
Year 1:
None (2); Died in field; Although planted early in May, stems never attained any height, the plugs were not root bound so I don't know why this happened; Shorter than other larkspur, although we had a very dry spring.
Year 2:
Too short (2); Germination wasn't good and didn't have many plants to work with, liked what I got, but just wasn't enough to make a good recommendation; Flower stems shorter than 'Stiletta Rosy Red'; Other larkspur varieties are much better; In the past I've had better luck with larkspur, we got it into the field early enough but then we had a month of no sun, rain and unusually cool weather, plants seemed stunted.
Similar Cultivars:
Year 1:
'Cannes Deep Blue'; Also grew 'Sublime' larkspur mixture of which this cultivar has similar growth characteristics, but not the indigo blue color; Also grow 'Blue Cloud' larkspur that has a similar dark blue color, but is more open and airy in appearance.
Year 2:
'Stiletta Rosy Red'.
Harrison, NY 10528-1613