Antirrhinum 'Chantilly Deep Orange'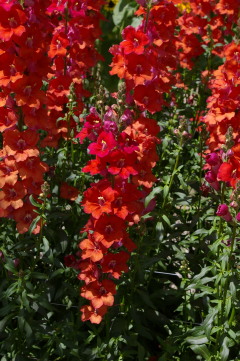 Trial: Annual
Year Trialed: 2007
Good Qualities:
Great color (8); The color is very unique, we called it "cinnamon, florist customers like the color; Unique, butterfly-like, attractive individual flowers (3); Tons of stems – great regrowth; I particularly enjoyed the Chantilly Orange for bouquet work, we did not net (and yes I know that everyone else does) but they grew real well, and even though we had some plants knocked over, their stems were still plenty long; Upright stems, We couldn't get enough of this flower!; Productive, good stem length; I prefer the shape of Chantilly series over the other butterfly types, I was surprised at how well the Group 1 and 2 snaps performed for us, very prolific – we stopped harvesting this cultivar since color is not popular in late spring and stems were getting short, I would plant Chantilly-type again in the spring but a different color and not pinched.
Problems:
Too short (4), though I was able to sell some to florists; Harder to sell in spring; Field grown stems were thin and bent easily, should have been netted in the field; I had two snapdragon cultivars in the variety trial this year and grew them along side and among my usual Rocket Mix, although I had the same cultural (insect) problems with the Rockets they did produce usable stems while Chantilly Dark Orange did not. However, the few florets on those stems of Chantilly Dark Orange that flowered had a nice attractive orange color, the problem was not the cultivar, but rather an serious infestation of a class of 'stink bugs' that caused the plant to develop abnormal growth restricting flowering, my insect control program (which is minimal) did not control the insects creating a crop failure; The color was a rusty orange, not a good spring color, which is the only time I could grow it; Beautiful open flowers with yellow throat with almost iridescent gold anthers, fair tolerance to heat; Thin stems, too early for good quality in October in greenhouse in Southern California; Very susceptible to heat stress, too few florets per stem; Performed the most poorly out of all my snaps – all had same field conditions and were set out at the same time – poor stand, poot height, poor rebloom. will try again but overall it was shorter and less productive than Spring Giant, I want to try these again; Color was more of a red/orange than a pure Halloween orange.
Similar Cultivars:
Not that I am aware of; 'Apollo Cinnamon' is similar color and later to flower – better for October flowering; Supreme series.
Trial Data
Antirrhinum

 

'Chantilly Deep Orange'

| | Yield (stems/plant) | Stem Length (inches) | Market Appreciation Rating – Wholesale (1) | Market Appreciation Rating – Retail (1) | Market Appreciation Rating – Consumer (1) | Repeat Again Rating (1) | Ease of Cultivation Rating (1) | Average Spacing (in2) | Average Postharvest Life (days) |
| --- | --- | --- | --- | --- | --- | --- | --- | --- | --- |
| Average | 5.3 | 22.3 | 2.0 | 3.3 | 3.5 | 3.3 | 4.0 | 79 | 9.2 |
| Range of Responses | 1-12 | 12-51 | 2.0 | 2-5 | 1-5 | 1-5 | 2-5 | 9-216 | 6-17 |
(1) 1 to 5 scale, with 5 being the best. Market ratings are based on sales to wholesalers, retailers, or final consumers direct.
Supplier
American Takii
301 Natividad Rd.
Salinas, CA 93906
Was the information on this page helpful?