Celosia 'Bombay Fiora'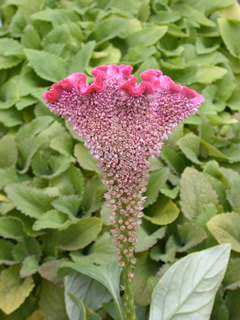 Trial: Annual
Year Trialed: 2004
Year of Trial: First (from 2004 report)
Good Qualities:
Brilliant color (9); Good form; Easy, people loved it; Unfortunately we didn't have hardly any blooms at all. Do all the heads have that pink colored line along the top of the crest? If so, I do like that feature of them!; In the tunnel early flowering, strong stem, celosia is a good crop for early planting in a high tunnel in spring; Outdoors: large comb size; Nice bloom size; Long lasting, heat tolerant.
Problems:
50% plants too short; So-so color, not very showy; Stems too thick to be useful – in mixed bouquets – okay sold as single stems, but not particularly interesting flower shape or color; Not the most vigorous plant I have ever grown but the color was so great that I will buy the seed despite it's rather high price; We grow many different celosias and like them very much, however we consistently have problems with the Bombays, the Fiora was no different, I got approximately 20 plants to the field and none of these produced acceptable heads to pick, the color did look like it would be a good color though; Susceptible to 2, 4-D drift; Produces no side shoots in the tunnel, even when topped B growers say seed is expensive, and without branches to harvest over a long time, this variety, and the other colors, are not worth it; No side shoots outdoors, even when topped, expensive seed, when started as a plug, even shorter than when using larger cell, not adapted to field conditions; None until they fell over in rain and wind associated with hurricanes; no problems.
Postharvest:
Fiora also dries well, but don't let it remain submerged in water, it gets brown and mushy; With past experience of celosia, don't wait too long to harvest them, the little black seeds are a bother and shatter everywhere if they have already developed when the flower is cut; No special treatments.
Trial Data
Celosia 'Bombay Fiora'

| | Yield (stems/plant) | Stem Length (inches) | Market Appreciation Rating – Wholesale (1) | Market Appreciation Rating – Retail (1) | Market Appreciation Rating – Consumer (1) | Repeat Again Rating (1) | Ease of Cultivation Rating (1) | Average Spacing (in2) | Average Postharvest Life (days) |
| --- | --- | --- | --- | --- | --- | --- | --- | --- | --- |
| Average | 3.1 | 20.1 | 3.0 | 3.8 | 3.6 | 3.3 | 3.7 | 93 | 7.9 |
| Range of Responses | 1-11 | 14-24 | 2-4 | 2-5 | 1-5 | 1-5 | 1-5 | 20-144 | 5-10 |
(1) 1 to 5 scale, with 5 being the best. Market ratings are based on sales to wholesalers, retailers, or final consumers direct.