Delphinium 'Aurora White'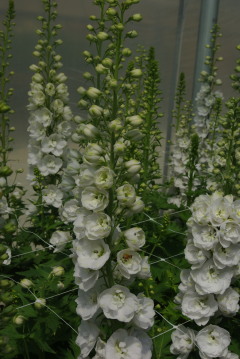 Trial: Annual
Year Trialed: 2007
Good Qualities:
Gorgeous flower (2), just like the other 'Aurora' colors; Strong seedlings; Nice stem length; We grew this one in the greenhouse and we had delphinium until the end of July (Zone 6b), it was absolutely fabulous, even with the shorter side shoots, the florists loved it, I have already ordered more for this year and ordered different colors; Time will tell!; Very attractive flowers/spike; Very reliable, uniform habit- flowers first year; Though not normally as marketable, the smaller side shoots proved quite useful in our desktop/mini bouquets; Beautiful, large flowers, stems good and strong but not too large; Nice, clean white color, small stems the first blooming time make for ease of using in bouquets; The white flower color transitioned to a lovely pale blue with age; Pretty, easy to grow.
Problems:
Short (2); None; Never have had any success with getting tall, useable delphiniums from seed their first year. They languished all season until fall- then they started to look promising (maybe) for next year; Died in field as a transplant; Not very drought tolerant; As a whole, the blooming stems were quite beautiful but they were sort of on the grey side, rather than a true clear white.
Similar Cultivars:
Large flowers similar to 'Guardian Blue' style.
Comments:
I got no blooms on any of my first year delphinium this year, we were pelted with weeks of non-stop rain then a long dry period, and I am grateful they survived at all, plants are healthy, just not creating flowering stems; I planted in hoophouse and so followed with another crop, next year I will see if I can get more stems by planting some outside; I got good germination from this cultivar, but they did not transplant to the field well, what few survived, were eaten by rabbits this season, no stems were harvested; It does pay for us to grow delphinium in the greenhouse with low heat in the winter or early spring, we get several cuttings off each plant and my customers just love it, I thought the Aurora had stronger stems than the Pacific Giants and we had no problems at all; Hot weather limited further cuts, planted too late for zone 8b in south; 'Aurora White' was about average in terms of mildew resistance; White is not a popular color we sell lots of purple and medium to dark blue stocks, will try the Aurora series in some of these colors; Second year will bring more blooms and if cut back in the spring, after flowering, it will bloom again for us in the fall.
Trial Data
Delphinium

 

'Aurora White'

| | Yield (stems/plant) | Stem Length (inches) | Market Appreciation Rating – Wholesale (1) | Market Appreciation Rating – Retail (1) | Market Appreciation Rating – Consumer (1) | Repeat Again Rating (1) | Ease of Cultivation Rating (1) | Average Spacing (in2) | Average Postharvest Life (days) |
| --- | --- | --- | --- | --- | --- | --- | --- | --- | --- |
| Average | 1.9 | 21.5 | 4.3 | 4.3 | 4.1 | 3.8 | 3.8 | 109 | 10.4 |
| Range of Responses | 0.11-5 | 8-36 | 3-5 | 3-5 | 3-5 | 2-5 | 3-5 | 25-192 | 1-14 |
(1) 1 to 5 scale, with 5 being the best. Market ratings are based on sales to wholesalers, retailers, or final consumers direct.
Supplier
American Takii
301 Natividad Rd.
Salinas, CA 93906
Was the information on this page helpful?
Care to tell us why? Send Explanation