Delphinium 'Aurora White'
Find this page at:
go.ncsu.edu/readext?220890
Trial: Annual
Year Trialed: 2007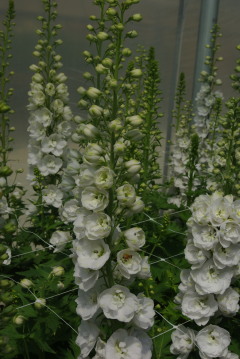 Good Qualities
Gorgeous flower (2), just like the other 'Aurora' colors; Strong seedlings; Nice stem length; We grew this one in the greenhouse and we had delphinium until the end of July (Zone 6b), it was absolutely fabulous, even with the shorter side shoots, the florists loved it, I have already ordered more for this year and ordered different colors; Time will tell!; Very attractive flowers/spike; Very reliable, uniform habit- flowers first year; Though not normally as marketable, the smaller side shoots proved quite useful in our desktop/mini bouquets; Beautiful, large flowers, stems good and strong but not too large; Nice, clean white color, small stems the first blooming time make for ease of using in bouquets; The white flower color transitioned to a lovely pale blue with age; Pretty, easy to grow.
Problems
Short (2); None; Never have had any success with getting tall, useable delphiniums from seed their first year. They languished all season until fall- then they started to look promising (maybe) for next year; Died in field as a transplant; Not very drought tolerant; As a whole, the blooming stems were quite beautiful but they were sort of on the grey side, rather than a true clear white.
Similar Cultivars
Large flowers similar to 'Guardian Blue' style.
Trial Data
Delphinium 'Aurora White'

Yield (stems/plant)

Stem Length (inches)

Market Appreciation Rating¹

Repeat Again Rating¹

Ease of Cultivation Rating¹

Average Spacing (in2)

Average Postharvest Life (days)

Wholesale

Retail

Consumer

Average

1.9
21.5
4.3
4.3
4.1
3.8
3.8
109
10.4

Range of Responses

0.11-5

8-36

3-5

3-5

3-5

2-5

3-5

25-192

1-14
¹1 to 5 scale, with 5 being the best. Market ratings are based on sales to wholesalers, retailers, or final consumers direct.