Delphinium 'Candle Lavender Shades'
Find this page at:
go.ncsu.edu/readext?225603
Trial Started: 2005
Year of Trial: First (from 2005 report)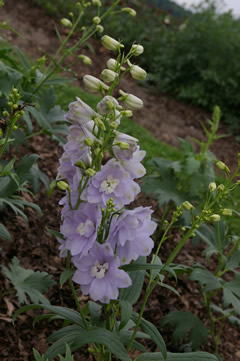 Good Qualities
Beautiful color (6); Large individual flowers (2); Fast, nice stems, uniform.
Problems
Didn't really like our hot summer, lost plants throughout the summer, those that survived came on quite nice this fall and are still sending up flower stalks; Didn't get planted until late, so didn't get as many stems as should have. Hope next spring they will be big and beautiful, and taller; I'm not sure that I could see the difference between 'Lavender' and 'Violet'; No germination; Root disease wiped out this variety by early September in field and tunnel.
Postharvest
Change water daily; Used an STS solution and really helps with shattering- 8 hours; then Crysal #2
Trial Data
Delphinium'Candle Lavender Shades'

Yield (stems/plant)

Stem Length (inches)

Market Appreciation Rating¹

Repeat Again Rating¹

Ease of Cultivation Rating¹

Average Spacing (in2)

Average Postharvest Life (days)

Wholesale

Retail

Consumer

Average

2.1
25.4
3.0
3.5
3.7
3.3
3.0
118
6.7

Range of Responses

1-4

18-38

1-4

1-4

1-4

1-5

1-5

36-192

4-10
¹1 to 5 scale, with 5 being the best. Market ratings are based on sales to wholesalers, retailers, or final consumers direct.