Dianthus 'Bouquet Rose'
Trial: Annual
Years Trialed: 2007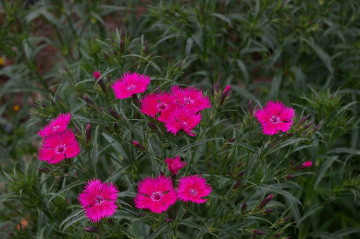 Good Qualities:
Great color (4); Great bouquet/filler cut, matures at one time so a quick single cut is achieved; Strong stems; Robust plants, handled cool temps beautifully and made a strong come-back (after shearing) in fall – lightly blooming still (as of mid-Nov!), sweet appearance; Healthy plants, I like the rose magic multi-pink look; The flower heads were nice and full, making for an attractive plant and useful blooms, long bloom time in the field; Easy to germinate, produce transplants, and transplant to field, some may think the 3 shades of pink from light pink to dark pink florets in the flower to be unique but I personally did not care for it; Interesting colors, blended well with the Amazon Duo; This turned out to be a great variety, lots of stems and tall; Ten to twelve flower heads per plant; This is the first spray dianthus I have tried that is as vigorous as Bouquet Purple, it is nice to have another color to add to the mix; Full flower heads, nice change of color, full plants.
Problems:
Too short (6); I have every reason to believe it will be much taller and useful next year, disappointed that it did not have more fragrance; It is too pale for my tastes; Customers, so-so; I grew this cultivar directly next to Bouquet Purple and the Neon series. In addition to the different color florets being undesirable the plant slightly flowered shorter than Bouquet Purple with smaller flower heads. My crop did not look anything like the flowers on display at the booth in the Annual Conference trade show. Thus, I must have had less than optimal conditions for this cultivar to perform to its potential; Both dianthus in trial developed black spots on stems and leaves, poor quality, while dianthus 'Amazon' in same row produced excellent cuts; I like having another choice of color, but this was too pastely for many of my customers; I have grown this cultivar for a couple of seasons but when I have it blooming along with 'Amazon Neon' or 'Bouquet Purple' I tend to leave this variety in the field – the stems are shorter and they actually end up looking washed out instead of having a bicolor effect – I may not continue growing it.
Similar Cultivars:
Kind of like 'Rose Magic' but less rigid stems and more productive stem count; 'Bouquet Purple' and 'Amazon Rose Magic'.
Trial Data
Dianthus

 

'Bouquet Rose'

| | Yield (stems/plant) | Stem Length (inches) | Market Appreciation Rating – Wholesale (1) | Market Appreciation Rating – Retail (1) | Market Appreciation Rating – Consumer (1) | Repeat Again Rating (1) | Ease of Cultivation Rating (1) | Average Spacing (in2) | Average Postharvest Life (days) |
| --- | --- | --- | --- | --- | --- | --- | --- | --- | --- |
| Average | 10.8 | 14.2 | 4.0 | 3.7 | 3.5 | 3.3 | 4.4 | 86 | 9.5 |
| Range of Responses | 1.5-27.5 | 8.5-27 | 4 | 1-5 | 2-5 | 1-5 | 3-5 | 36-144 | 7-14 |
(1) 1 to 5 scale, with 5 being the best. Market ratings are based on sales to wholesalers, retailers, or final consumers direct.
Supplier
PanAmerican/Ball Seed
P.O. Box 438
West Chicago, IL 60186