Dianthus 'Sweet Experimental Scarlet'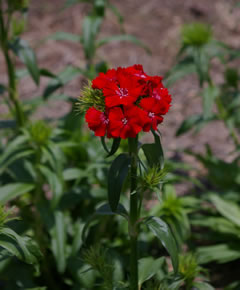 Trial Started: 2005
Year of Trial: First (from 2005 report)
(1) 1 to 5 scale, with 5 being the best. Market ratings are based on sales to wholesalers, retailers, or final consumers direct.
For best printing results use "Landscape" orientation.
Good Qualities:
Nice bright red color (5); Strong stems (2);. Well-filled blooms, some frost tolerance, blooms longer than 'Radiants', but not as long as 'Amazons'; Branching; High yielding; Light, pleasant fragrance, opportunity for some rebloom in Fall and MAYBE a better chance for height if it comes back next year on this year's sowing; Long growing season- early June to late July and still many usable stems; Large bloom period; Very good germination, good length; Repeat flowering and still good stem strength.
Problems:
Not as vigorous as Amazon (5); Too short (3) made it difficult to combine with other thing in a bouquet ; Quickly came on all at once and then to seed; Bright red was difficult to "tame" or pair with other flowers, relatively short field life and fall rebloom included lots of singles; Individual florets on head looked bad (the first ones to bloom) when later blooms opened – all sweet series colors did this – had to spend a lot of time "cleaning it up" in order to sell it.
Postharvest:
See separate postharvest report in this issue for results from NC State University postharvest evaluations.
Trial Data
Dianthus

 

'Sweet Experimental Scarlet'

| | Yield (stems/plant) | Stem Length (inches) | Market Appreciation Rating – Wholesale (1) | Market Appreciation Rating – Retail (1) | Market Appreciation Rating – Consumer (1) | Repeat Again Rating (1) | Ease of Cultivation Rating (1) | Average Spacing (in2) | Average Postharvest Life (days) |
| --- | --- | --- | --- | --- | --- | --- | --- | --- | --- |
| Average | 6.8 | 13.9 | 4.0 | 3.2 | 3.4 | 3.4 | 3.9 | 101 | 8.3 |
| Range of Responses | 1-12 | 10-19 | 4.0 | 1-5 | 3-4 | 1-5 | 3-5 | 36-192 | 7-10 |
Supplier
PanAmerican Seed
P.O. Box 438
West Chicago, IL 60186
www.panamseed.com