Dianthus 'Sweet Scarlet'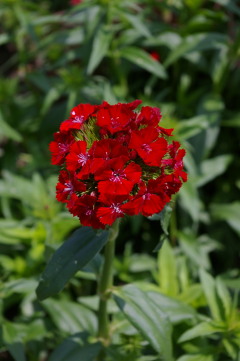 Trial: Annual
Years Trialed: 2006
Good Qualities:
Great red color (16); Very productive (4); Nice fragrance (2); Easy to grow (2); Long vase life (2); Good if client wants something more muted than pure red; Good germination, easy to transplant from plugs, good growth; Nice red shade that blended well with other shades in bouquets, nice light fragrance; Longer bloom time with longer second growth than the 'Amazon Neon Duo' that I planted from plugs; Nice large flowers; Strong stems, very long harvest window per stem and for entire crop; Heavy rebloomer; 12 days earlier than the Amazons; The red color did not sunburn, as it has done on 'Sweet Red'; Healthy plants; Excellent germination; Long production period;
Problems:
Short (11); Color a bit flat (2); Color 'browns out' (2) especially in the rain; Skimpy for me this year, I grew other Sweets last year with more success, so perhaps just too late? Also, some florets opened so early, that by the time it was 50-70% open, they were dying; Grew it next to and among dianthus 'Amazon Neon Cherry', which had about eight 24 to 28 inch strong stems with large heads, but 'Sweet Scarlet' had shorter thinner more numerous stems; Should have been planted earlier; Bolted rather quickly though some rebound in fall, a supportive flower – not a focal; The stems are thin, wirey and short, I'm an Amazon fan, but I've had it with the sweet genes, I've trialed it for 2 years and have no regard for it; Crop browned out due to heavy frost (27 F) on Sept. 9 (Zone 4), only a few stems harvested that weren't completely open; Continued to bloom through September, I'll see how it over winters; So hard to sell except in small bunches or bouquets at the farmers market; Red is not very sellable in summer bouquets, insects attacked the middle of bloom, then top appeared gone by, Amazon series dianthus was grown under same condition and no brown tops; This is the second year I have attempted growing this plant – Once again, the primary bloom is tall, strong and full, subsequent stems are shorter, weaker and have smaller heads, I gave up trying to harvest and use them; Side shoots small flower heads; Developed rust during summer months, I'm going to over-winter it in the field and see if it will come back next spring; I have seen this flower at other trial locations and it has looked better; Small heads browned out before maturation; Variable stem length; We have a hard time with dianthus in the field so always fall-plant in the high tunnel; 5 to 10 cm shorter than Amazon Neon Purple; We had and could have had many, many stems from this plant; None; Not tall for us this year but we know why, we planted it in black plastic and it ended up being a hot spring (102 F in April), it would have been much happier; Didn't really care for this plant, color didn't hold well; No germination strong enough to grow on;
Similar Cultivars:
Amazon Neon Series (2); We grew all of the Sweet series, 'Coral' had the tallest, strongest stems.
Trial Data
Dianthus

 

'Sweet Scarlet'

| | Plants flowering (%) | Plants dead at end of summer (%) | Yield (stems/plant) | Stem Length (inches) | Market Appreciation Rating – Wholesale (1) | Market Appreciation Rating – Retail (1) | Market Appreciation Rating – Consumer (1) | Repeat Again Rating (1) | Ease of Cultivation Rating (1) |
| --- | --- | --- | --- | --- | --- | --- | --- | --- | --- |
| Average | 5.3 | 14.0 | 2.2 | 3.0 | 3.1 | 2.7 | 4.0 | 98.1 | 9.9 |
| Range of Responses | 0-16 | 9-18 | 2-3 | 1-5 | 1-5 | 1-5 | 2-5 | 36-192 | 7-14 |
(1) 1 to 5 scale, with 5 being the best. Market ratings are based on sales to wholesalers, retailers, or final consumers direct.
Supplier
PanAmerican Seed
P.O. Box 438
West Chicago, IL 60186
www.panamseed.com