Helianthus 'Solara'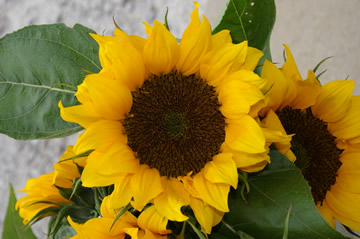 Trial: Annual
Years Trialed: 2006
Good Qualities:
Good color (6); Pollenless (3); Sturdy stems (5); Color and appearance great for retail florist arrangements; Excellent germination and plant health, consistent flower shape and size, flowers smaller from second planting, excellent plant health; These tend to face more upwards than other sunflowers which makes them great for all-sided bouquet, great bouquet sunflower; A spectacular flower! A favorite! Large 6 inch blooms have rich orange petals and a very large, very dark center (one of its nicest attributes); Good 4 foot height, strong neck; Flower big and bright, easy, height!; Nice petal size, long lasting; Easy; Thick petals, an excellent early-season sunflower; One of the prettiest sunflowers we grew this summer, the dark centers really set it off; The same color as 'Sunrich Orange', performs like 'Sunrich Orange'- a little shorter crop tune and overall its just a little shorter in height than 'Sunrich Orange'; Very uniform; Crisp appearance; Size of head and height, wholesalers like the head size.
Problems:
None (4); Not as early as 'ProCut Orange'; Had a few heads that didn't open evenly, cause unknown; Blooms coincided with our annual influx of corn rootworm beetle, even without pollen, the beetles chewed petals if we did not harvest early (just as they opened) and often; 'Sunrich Orange' is "softer" and better looking; Too short too cut, small flowers, did not cut – Our May flood was too much for this new sunflower, planted 8 to 10 varieties (Sun series and Procut series), they grew (same conditions, shorter than usual, but cuttable 24 to 30 inches); Early fungal disease, petals not open always completely; Hard to keep up with insects on sunflowers this year, had problems with head cutter weevils; Had a lot of leaves on the head, which I didn't particularly like; Seemed to stretch more than 'Sunbright Supremes' when growing transplants.
Similar Cultivars:
'Sunrich Orange' (3); Similar to 'Procut Orange' except about 2 weeks later to bloom; 'Procut Orange', but better! For early crop, 'Solara' has stronger stems, necks and thicker petals; Would strongly consider growing along with the Procut series; 'Sunbright Supreme'.
Postharvest:
Cut just when petals are starting to lift and unfurl from the bud; Plain water. Note: Check out the separate postharvest article in this issue for more information on postharvest vase life and treatments.
Trial Data
Helianthus

 

'Solara'

| | Plants flowering (%) | Plants dead at end of summer (%) | Yield (stems/plant) | Stem Length (inches) | Market Appreciation Rating – Wholesale (1) | Market Appreciation Rating – Retail (1) | Market Appreciation Rating – Consumer (1) | Repeat Again Rating (1) | Ease of Cultivation Rating (1) |
| --- | --- | --- | --- | --- | --- | --- | --- | --- | --- |
| Average | 1.0 | 41.2 | 4.8 | 4.8 | 4.5 | 4.1 | 4.4 | 96.5 | 9.3 |
| Range of Responses | 1 | 24-60 | 4-5 | 4-5 | 3-5 | 1-5 | 3-5 | 24-208 | 7-12 |
(1) 1 to 5 scale, with 5 being the best. Market ratings are based on sales to wholesalers, retailers, or final consumers direct.
Supplier
Ernst Benary Seed
1444 Larson St.
Sycamore, IL 60178
www.benary.com