Helianthus 'Sun4U Lemon Yellow'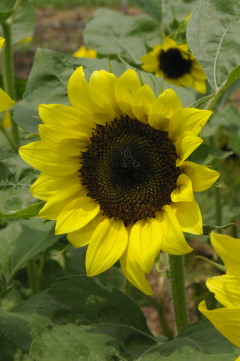 Trial: Annual
Year Trialed: 2008
GOOD QUALITIES:
Good lemon color with dark centers (11) with great customer appeal; Very uniform, cut all of each color in about 1 week; Easy to grow, large brown center with short petals, good stem size; Came into flower early – by July 4th, uniform, medium head – good for bouquet work, no petal drop, good branching with multiple usable stems on each plant; Good germination, harvested 76 stems; All Sun4U were perfectly fine, single suns; 6-8 inch flowers, first in series to flower, rapid germination; Strong branching, good flower size; An interesting feature of this cultivar is the smaller leaf under the flower, it makes for a very attractive display when bunched as the leaves are below the flower head, flowered earlier than the traditional sunflowers that I had planted at the same time; Large bloom on strong stem, pollenless; Nice form, nice size; Stocky, sturdy plants; Pretty; Early to flower.
PROBLEMS:
None (2); Too light of yellow; Very few petals on head, if lost one petal, had to junk flower; Light yellow, did not hold up well in the cooler and was not as good a seller as the orange sunflowers; Petals lack substance, do not hold well and are more prone to insect damage than other cultivars, yellow sunflowers are not popular with consumers; Very attractive to tarnish plant bug more so than darker yellow sunflowers; A few blooms were not held upright; Petals seemed more attractive to insects than other cultivars – produced some holes on petals, slow to produce usable stems after a cut; Flower size varied large to small; I planted too far apart yielding very large heads I could not use in bouquets, I had borer damage to many; Plant height varies quite a bit; I wasn't impressed with strength of stem or vaselife to grow again; Flower head relatively small for size of plant; Slightly short plant height, petals are wrinkled/crinkled, color fades/bleaches into white on the edges, shorter stems than others in Sun4U series.
SIMILAR CULTIVARS:
Pro Cut Series; Several; The Sunrich series; A tall 'Pro Cut Lemon', but short-day responsive.
TRIAL DATA
Helianthus 'Sun4U Lemon Yellow'

| | YIELD (STEMS/PLANT) | STEM LENGTH (INCHES) | MARKET APPRECIATION RATING – WHOLESALE (1) | MARKET APPRECIATION RATING – RETAIL (1) | MARKET APPRECIATION RATING – CONSUMER (1) | REPEAT AGAIN RATING (1) | EASE OF CULTIVATION RATING (1) | AVERAGE SPACING (IN2) | AVERAGE POSTHARVEST LIFE (DAYS) |
| --- | --- | --- | --- | --- | --- | --- | --- | --- | --- |
| AVERAGE | 1.7 | 39.3 | 2.5 | 3.2 | 3.8 | 3.2 | 4.4 | 156 | 9.2 |
| RANGE OF RESPONSES | 1-7 | 18-60 | 2-3 | 3-4 | 3-5 | 1-5 | 2-5 | 36-648 | 6-14 |
(1) 1 to 5 scale, with 5 being the best. Market ratings are based on sales to wholesalers, retailers, or final consumers direct.