Panicum Elegans 'Frosted Explosion'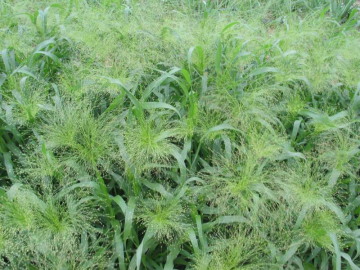 Trial: Annual
Year Trialed: 2008
Good Qualities:
In a bouquet, it added an airy feature; Good filler, dries well; Lacy filler, not the norm, pleasing shape (upside down cone); Liked to use these early on until they 'exploded', this explains for low stem counts; Feathery, light appearance was very complimentary to other cut flowers, vast majority of stems were 18-20 inches, very few were shorter; Light airy texture; nice green color with darker panicles, great as a filler both fresh and dried, the most popular flower in our ASCFG cut flower trials; I especially liked this grass in its less mature, tufted stage – like a fine grass tassel on a stem! Made a very textural filler – nice bright green color, nice long useful life in field, will definitely be growing this again!; One of the most productive, in demand crops I grew, we never had enough and sowed twice plus cut from a batch of volunteers, this stuff is so easy to grow, easy to cut, the wholesaler and grocery stores love it and consumers can't get enough; Very cool plant, everyone loved it; Frosted Explosion was easy to germinate, transplant, and grew vigorously, in fact it responded well to watering and fertilizing; Easy to grow, wonderful customer approval, long lasting and great filler for bouquets; Unusual flower type.
Problems:
None (2); Too short (2); Looked too much like a weed for most people; Fragile; Stems can bend; Cut in early development or the tops become thin and brittle; First cut produced huge number of stems, following cuts weren't as lucrative; Longer stems would be desirable; Will grow it again, for sure, and hope for longer stems, but even short, it was a winner!; Hard to use after it started to branch, maybe additional sowings would be better, sheds some seeds; All plants were almost dead, the results are from 1 small plant that barely survived, not sure cause of stress.
Similar Cultivars:
Native switch grass, a weed here!; No; There is a weedy grass in my fields that is identical to 'Frosted Explosion', I do not water or fertilize the weed but it grew similar to the cultivar and had the same inflorescence, in fact I have used the weed years previously in bouquets, for my customers, it was too common as they all have it as a weed in their gardens as well.
Postharvest:
Choose green inflorescences that are just getting a bronze tip to avoid messy arrangements; Water and bleach; Cut into Floralife; We only used plain water.
Trial Data
Panicum elegans

 

'Frosted Explosion'

| | Yield (stems/plant) | Stem Length (inches) | Market Appreciation Rating – Wholesale (1) | Market Appreciation Rating – Retail (1) | Market Appreciation Rating – Consumer (1) | Repeat Again Rating (1) | Ease of Cultivation Rating (1) | Average Spacing (in2) | Average Postharvest Life (days) |
| --- | --- | --- | --- | --- | --- | --- | --- | --- | --- |
| Average | 13.5 | 17.9 | 4.3 | 4.0 | 3.8 | 3.6 | 4.6 | 107 | 10.5 |
| Range of Responses | 1-54 | 8-30 | 3-5 | 2-5 | 2-5 | 1-5 | 4-5 | 18-288 | 7-14 |
(1) 1 to 5 scale, with 5 being the best. Market ratings are based on sales to wholesalers, retailers, or final consumers direct.
Supplier
Fred C. Gloeckner Company
600 Mamaroneck Ave.
Harrison, NY 10528-1613