Zinnia 'Benary's Giant Wine'
Find this page at:
go.ncsu.edu/readext?221583
Trial: Annual
Year Trialed: 2009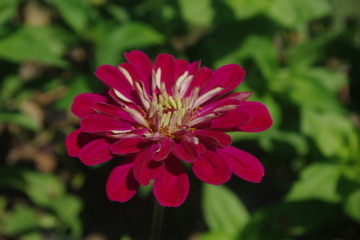 Good Qualities
Gorgeous color (7); Full flowers (2); Great addition to our collection of zinnia varieties to grow; Color mixed well with many other flowers for bouquets, nice accent, germination was good, plants grew well and didn't get mildew until late in season when cool weather started, many stems were not cut because they were short, but that made for a nice color in the field, there were still many useful stems; Attractive, large flower; Good plant vigor, almost no mildew problems, high quality stems; All so far have been fully double when 'Benary Yellow' and 'Benary Scarlet' in the same hoophouse are mixed doubles and singles, especially 'Benary Yellow', this zinnia is stunning and I highly recommend it; Huge, productive, healthy plants; Size – fully double, too bad it isn't as consistent as 'Uproar Rose'; 4 days into vase life turned a beautiful purple!; Outstanding quality of bloom; Good vase life, beautiful color that adds to the range of color already in the series, florist repeatedly requested that "burgundy"-colored zinnia, my crew loved working with it in bouquets; Prolific, bloomed all season, nice long stems.
Problems
No problems (3); Occasionally, flowers were irregular or misshapen; Same as other zinnias; Poor season to trial heat lovers – cold and wet here – ruined flowers; Variable stem lengths on first cut, powdery mildew set in before plants could produce many blooms on a single plant.
Similar Cultivars
Grows the same as other Benary zinnias (3); Other zinnias; 'Benary's Giant Purple'.
Postharvest
Postharvest in water (2); Floralife; Cool water, Floralife, cool after cutting and don't leave in heat of the field. See separate postharvest report in this issue for results from NC State University postharvest evaluations.
Trial Data
Zinnia 'Benary's Giant Wine'

Yield (stems/plant)

Stem Length (inches)

Market Appreciation Rating¹

Repeat Again Rating¹

Ease of Cultivation Rating¹

Average Spacing (in2)

Average Postharvest Life (days)

Wholesale

Retail

Consumer

Average

12.3
19.7
4.7
4.3
4.5
4.9
4.6
117
7.2

Range of Responses

1-60

10-30

3-5

3-5

4-5

4-5

3-5

36-252

5-10
¹1 to 5 scale, with 5 being the best. Market ratings are based on sales to wholesalers, retailers, or final consumers direct.
Supplier
Benary Seed
1444 Larson St.
Sycamore, IL 60178