Zinnia Elegans 'Benary's Giant Lime' 2002
Find this page at:
go.ncsu.edu/readext?229409
Trial: Annual
Years Trialed: 2002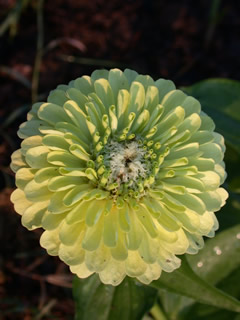 Good Qualities
Unique color (10); More double than 'Envy' (5); More consistent than 'Envy' (3); Good flower form; Uniform plants, good germination, very strong stems, high percentage of double flowers; Great if you like a green zinnia; Large 2-22 inch flowers with nice colors that held better than 'Envy', but still browned too quickly; Good height; Great production, good vase life; Was good for bouquets; First ones to flower were mostly double flowers; Super fast crop; An improvement over 'Envy' – When flowers matured fully and without damage, they were exquisite in color and form (unfortunately these were infrequent).
Problems
Browning on petal tips (5); Powdery mildew (4); Many single or semi-double flowers (3); Small flowers (2); Flowers smaller than other Benary Giants (2); Too short (2); Poor germination (2); Still seems to bleach out in the sun to a lighter color; Color not uniform, color fades later in season, later stems not useful; Slightly weird color – Difficult season, leaf disease an issue (even with drought conditions); Low yield per plant; Had problem with hydration early in planting, but not later in season (zone 6b); Insects (striped cucumber beetle and green corn rootworm beetle) seemed to love this flower – The majority of the flowers never fully matured – be it insects, weather, or genetics – Eventually I cut blooms in the premature state and these were ok but certainly not what they could or should have been.
Trial Data
Zinnia elegans 'Benary's Giant Lime'

Yield (stems/plant)

Stem Length (inches)

Market Appreciation Rating¹

Repeat Again Rating²

Ease of Cultivation Rating²

Average Spacing (in2)

Wholesale

Retail

Consumer

Average

10.4
17.8
3.5
3.6
4.0
3.6
4.4
155

Range of Responses

0-35

12-26

2-5

2-5

2-5

1-5

3-5

36-288
¹1 to 5 scale, with 5 being the best. Market ratings are based on sales to wholesalers, retailers, or final consumers direct.
Supplier
Benary Seed
1444 Larson St.
Sycamore, IL 60178