Zinnia Elegans 'Sun Cherry'
Find this page at:
go.ncsu.edu/readext?229458
Trial: Annual
Years Trialed: 2002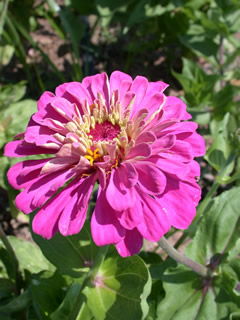 Good Qualities
Great color (10); Large flowers (6); Flowers mostly double (5); Fast crop (3); Mix of color shades (2); Powdery mildew resistant (2); Good branching; Very strong stems; Full – adds different texture; Great production and good vase life; I had no problems with stems bending – Tall straight stems, easy to cut; Strong fast grower in the field in full sun in very hot conditions (Zone 10) – Great flower shape and form; Consumers loved them and they sold very well at our farm – Many comments on their beauty; The slight variation in pink among the blossoms was nice; Good stems, especially late in summer, excellent vase life, kept double flowers throughout season; Plant size good and full; Good quality flowers, produced for a long time; Vase life – 1 week or better; Nice form, no support needed; Keeps producing.
Problems
Powdery mildew (4); Different shades of pink (2); Quite a bit shorter than 'Benary Giants'; Too short compared to other Zinnias in same planting; Very short stems on first cuts (plants were pinched at 4-6 inches) and very thick; Not as tall or thick stemmed as 'Benary Blue Points'; If left in the field mature, they seemed to get dark spots on the flower and I don't mean too mature either; Wholesale and retail florists are luke warm to all zinnia's in my area – Relatively short vase life improved with Chrysal and keeping them out of the cooler – Late in the season problems appeared with mildew but not before a great crop was picked; A few singles; Japanese beetles was heavy late in season, otherwise no insect problem; Poor germination (40%); Not as big blooms as the 'Sun Gold' nor as prolific; Needed 3 cuts before 12 inch+ stems possible; No problems.
Trial Data
Zinnia elegans 'Sun Cherry'

Yield (stems/plant)

Stem Length (inches)

Market Appreciation Rating¹

Repeat Again Rating¹

Ease of Cultivation Rating¹

Average Spacing (in2)

Wholesale

Retail

Consumer

Average

10.3
16.1
4.0
4.4
4.4
4.1
4.5
128

Range of Responses

0-35

0-26

3-5

4-5

2-5

1-5

3-5

16-288
¹1 to 5 scale, with 5 being the best. Market ratings are based on sales to wholesalers, retailers, or final consumers direct.