Zinnia 'Giant Lime'
Find this page at:
go.ncsu.edu/readext?221380
Trial: Annual
Year Trialed: 2008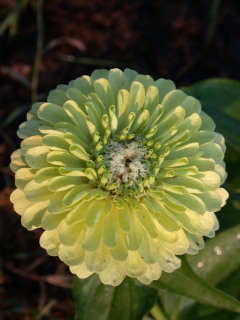 Good Qualities
Unique and popular color (8); Easy to grow (2); Excellent event flower; Benary's Lime shows its usefulness at the end of the season, when 'Envy' is fading: the plants are stronger, greener, and there are more useable stems; Very prolific, bloomed for most of the growing season; Wonderful color for bouquet work – customers love the color; Some flowers are beautiful and fully double, others are so-so; 'Lime' is stunning with the 'Rose'; Interesting color which some customers simply cannot get enough of! Pairs beautifully with other greens and whites especially, but virtually any color! The fully mature DOUBLES are fantastic but are rare – will continue to grow this one but hope for some genetic improvements; People and hummingbirds like zinnias; The color is great for mixing, florists loved it! Strong stems, big full heads, consistent quality, much better than 'Envy'; Tall, attractive, with medium-sized double flowers; 'Lime' is better than it was about 5 years ago, better green more consistently double, still not that green, seems to attract insects for petal bites more that other colors; Vigorous growth, productive plant. Good germination, easy to transplant and establish in the field.
Problems
Smaller flowers than other Benary's Giant cultivars (6); A lot of single flowers (5); Stem shorter than other 'Benary's Giants' (4); All had to be sprayed for fungus, due to our very rainy summer, flower head is more cone shaped than other great Benary zinnias; Color variability, disease prone, vase life less than others; We had the usual problem of short holding for all zinnias, problems with Japanese beetles and leaf spot, tends to get brown edges more quickly; Breeders have more work to do in stablizing this very popular cultivar; Seems to mature and get "old" looking faster than other Benary colors – except white; Beetles and slugs; Giant habit faded with each cut, wasn't revived even with harsh cut that took away excess shoots, non-uniformity in petals; More susceptible to disease problems than other Zinnia cultivars, not as productive as other colors, more attractive to Japanese beetles; Mildew; Quickly shows its age, may not develop fully, cut away at least as much as I harvest – lots of singles and blooms which fail to mature, bugs love this one!; Standard zinnia problems, weak neck, barely acceptable vase life, not enough of the nice big really double flowers; Sensitive to our high EC water; None; 'Giant Lime' seems more disease susceptible than other selections and mixes of 'Benary Giants', I grew Giant Lime between other blocks of Giants and although they maintained their vigor most of the season, the 'Giant Lime' went down fast with disease – this occurred both in the field and greenhouse – however, the major problem is the browning of the petals, the slightest hint of anything and there were brown petals, this turned customers off, not a problem with the other single color selections or mix of Benary Giants.
Similar Cultivars
'Envy' (4), but 'Giant Lime' has much better disease tolerance than 'Envy'; I didn't find these that different from the other giants I've grown.
Postharvest
Plain water (2); Remove about 1/3 of leaves (lower ones); Used Floralife and picked when fully open; Need cooler temps; As with all our zinnias we used Chrysal OVB and did not put flowers in cooler, later in the season we trialed Chrysal chlorine tablets with good results; Surface sterilize stems in a 10% bleach solution, we don't use floral preservative with zinnias, we avoid keeping them in the cooler.
Trial Data
Zinnia 'Giant Lime'

Yield (stems/plant)

Stem Length (inches)

Market Appreciation Rating¹

Repeat Again Rating¹

Ease of Cultivation Rating¹

Average Spacing (in2)

Average Postharvest Life (days)

Wholesale

Retail

Consumer

Average

7.2
17.1
2.8
4.1
3.9
3.9
4.1
122
6.7

Range of Responses

1-30

9-27

1-5

3-5

3-5

1-5

1-5

36-252

5-9
¹1 to 5 scale, with 5 being the best. Market ratings are based on sales to wholesalers, retailers, or final consumers direct.
Supplier
Benary Seed
1444 Larson St.
Sycamore, IL 60178