Zinnia 'Red Beauty'
Find this page at:
go.ncsu.edu/readext?221585
Trial: Annual
Year Trialed: 2009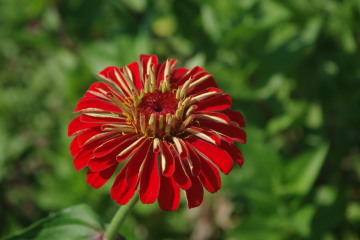 Good Qualities
Excellent color (5); A great addition to our collection of zinnia varieties to grow; Double flowers, good stem length and size; Color mixed well with many other flowers for bouquets, nice accent, germination was good, plants grew well and didn't get mildew until late in season when cool weather started, many stems were not cut because they were short, but that made for a nice color in the field, there were still many useful stems; Nice big flower, strong stems; Even colour throughout plants; Prolific, long-blooming; Uniform flower appearance, medium early; Good stem length, plant height and flower production, uniformity of bloom and almost all flowers having a prominent ring of disk flowers; Very good quality, rich red, unlike other fall tones we have late in the season, vigorous plants with almost no mildew problems, even late in the season.
Problems
No problems (2); Very poor vase life as compared with 'Giant Wine' which I was cutting at the same time; Color was too bright, impossible to work into bouquets or mixed bunches, ugly; Bad weather made flowers useless if they were rained on a lot, which caused a fungus disease too; Flower not consistently double, Japanese beetles preferred it to the other zinnias in trial!; Not uniform, some nice, some ho-hum; Flower not as large as some; Subject to fungal leaf spot found on all zinnias; Like the white, this variety sometimes had irregularly-shaped flowers, but otherwise it was a great variety; Powdery mildew set in before plants could produce many blooms on a single plant.
Similar Cultivars
Grows the same as other zinnias.
Postharvest
Cool water, Floralife, cool after cutting and don't leave in heat of the field; Used plain water or Floralife, changed water after 24 hours; 7- 10 days if dry; Still looked good after a week; Water. See separate postharvest report in this issue for results from NC State University postharvest evaluations.
Trial Data
Zinnia'Red Beauty'

Yield (stems/plant)

Stem Length (inches)

Market Appreciation Rating¹

Repeat Again Rating¹

Ease of Cultivation Rating¹

Average Spacing (in2)

Average Postharvest Life (days)

Wholesale

Retail

Consumer

Average

11.7
19.6
3.5
4.0
3.7
3.5
4.3
116
7.1

Range of Responses

1-60

11-30

2-4

3-5

1-5

1-5

3-5

64-252

3-10
¹1 to 5 scale, with 5 being the best. Market ratings are based on sales to wholesalers, retailers, or final consumers direct.