Zinnia 'Uproar Rose'
Find this page at:
go.ncsu.edu/readext?221389
Trial: Annual
Year Trialed: 2008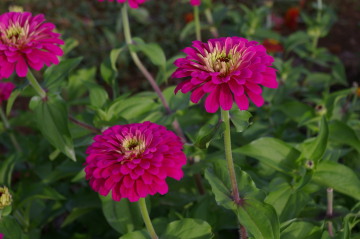 Good Qualities
Great consistent rose color (13); Productive (7); Large flowers (6), flower size does not diminish as season advances; Double (4); Tall or long stems (3); Easy to grow (2); Bloomed for most of the growing season; Consistent and uniform blooms; Triple layer (or more) of petals was always there; Very first flowers were 3-4 inches on 18 inch stems, lots of flower from July to September (Zone 9); Early successions especially productive; A standout in the field! A heavy yielder with big beautiful blooms on long, strong stems; Uniform grower; Still a favorite; Not as sensitive to high EC irrigation water; Weeks of cutting in field; Fit in nicely with the other large flowered zinnias in the trail and those I regularly grow.
Problems
We had the usual problem of short holding for all zinnias, problems with Japanese beetles and leaf spot; Does not measure up to Benary zinnias; Size of blooms was reduced by each cut, however, was marginally restored to original 4-5in. diameter by severe cutting of side/lower shoots; Late successions seem much shorter, not as productive; Shorter than other cultivars of similar color, more susceptible to zinnia diseases; Mildew; Soft necks, tends to break easily!; Japanese beetles and fungal diseases, used hot pepper spray, hand picked a lot of beetles!; None.
Similar Cultivars
'Giant Carmine Rose' (3); Very close in color to Benary Giant Purple, Benary's Giant is closest, but color not the same.
Postharvest
We only used plain water; Need cooler temps, unfortunately we didn't have the facility for storing; Surface sterilize stems in a 10% bleach solution, we don't use floral preservative with zinnias, we avoid keeping them in the cooler; Used Floralife and picked when fully open.
Trial Data
Zinnia'Uproar Rose'

Yield (stems/plant)

Stem Length (inches)

Market Appreciation Rating¹

Repeat Again Rating¹

Ease of Cultivation Rating¹

Average Spacing (in2)

Average Postharvest Life (days)

Wholesale

Retail

Consumer

Average

9.6
18.5
3.8
4.8
4.8
4.4
4.4
128
6.8

Range of Responses

3-30

10-30

1-5

4-5

4-5

2-5

3-5

36-252

6-9
¹1 to 5 scale, with 5 being the best. Market ratings are based on sales to wholesalers, retailers, or final consumers direct.
Supplier
Goldsmith Seeds
P.O. Box 1349
Gilroy CA 95021