Zinnia 'Zowie Yellow Flame'
Find this page at:
go.ncsu.edu/readext?221391
Trial: Annual
Year Trialed: 2008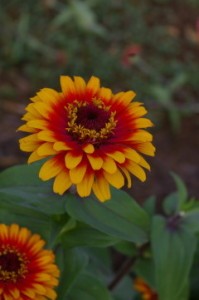 Good Qualities
This one is a hit. I made bouquets with orange safflower, blue annual statice, 5 Zowie, 7 Uproars, they blew out of the farm market I sold to all summer long; Powdery mildew susceptible, therefore spacing is crucial, susceptible to other foliar diseases as well; I usually wait to grow this for end of summer, so perhaps it would be taller if I started earlier; Entire zinnia crop was planted late while I was out of town, this year, I pinched in August and cut back severely in late August which did increase stem length; A favorite!; Did well in greenhouse – used water with a lower EC; bloomed over much of the growing season; We had more rain than usual and cool nights, which caused some rust; I would not grow it again because of the disease problems, compared to other zinnia cultivars I grew, this was the least vigorous and most disease prone.
Problems
Stems too short (10), Small flowers (2); Better as a bedding plant (2); Continual cutting eventually elongates the stems somewhat; Significantly shorter flowers, more botrytis-susceptible in a high tunnel planting than other varieties; Variable number of petals on blooms; Minor Japanese beetle damage; Zinnia meltdown at times; Mildew; Flowers were never big and double; Sprayed for fungal diseases and beetles, bad year for Japanese beetles; Sensitive to our high EC water; We had the usual problem of short holding for all zinnias, problems with Japanese beetles and leaf spot; Poor seed germination, poor seedling vigor, disease prone both in the greenhouse and field.
Similar Cultivars
None listed by respondents.
Postharvest
Plain water (2); Cooler temps, our storage was 68 F and not cool enough, bleach and water alone doesn't work the best; Surface sterilize stems in a 10% bleach solution, we don't use floral preservative with zinnias, we avoid keeping them in the cooler; Picked fully developed.
Trial Data
Zinnia 'Zowie Yellow Flame'

Yield (stems/plant)

Stem Length (inches)

Market Appreciation Rating¹

Repeat Again Rating¹

Ease of Cultivation Rating¹

Average Spacing (in2)

Average Postharvest Life (days)

Wholesale

Retail

Consumer

Average

9.1
15.0
3.0
4.2
4.4
3.9
4.3
129
6.7

Range of Responses

5-23

8-20

1-5

2-5

2-5

1-5

2-5

36-252

5-9
¹1 to 5 scale, with 5 being the best. Market ratings are based on sales to wholesalers, retailers, or final consumers direct.
Supplier
Goldsmith Seeds
P.O. Box 1349
Gilroy CA 95021
www.goldsmithseeds.com